2022 Wagoneer Exterior Style
2022 Wagoneer Exterior
When you think of luxury and design, Jeep is a brand that definitely offers both. When it comes to exterior design, the Wagoneer is the benchmark. Its beautifully designed exterior comes together by all the minute details that go unnoticed. With its aggressive front grille to its muscular side profile, this Wagoneer is the evolution of the brand in more ways than one. The Wagoneer is ready to take on the competition, and it all starts with its exterior design.
At Great West Chrysler, we have a large selection of new vehicles for your consideration. We invite you to browse and select the one which best suits your needs and wants. Make sure to schedule a test drive and experience this fantastic brand.
Meticulous Craftsmanship
The 2022 Wagoneer, even before its launch, became a modern-day classic. It offers automotive consumers contemporary style, dramatic design language, and the reinterpretation of what a full-sized SUV is supposed to be. This vehicle's attention to detail is unmatched in the segment, and with features like LED lighting, beautifully crafted wheels, an aggressive front grille, and a silhouette that commands a second look, the Wagoneer is everything you want and more. Its exterior design is the new definition of premium luxury.
Adaptive Front LED Lighting
The front facia of the 2022 Wagoneer commands attention with its high and elegant grille, Wagoneer lettering across the hood, LED fog lights and smooth lines that flow. Include the Adaptive Front LED lights, and you have a vehicle that looks great and also allows you to look ahead clearly as well. The integrated electronic headlamp motor will turn the light as the steering wheel turns, allowing you to see around the corner. It offers light precisely where you need it. So don't worry if it's dark out or the roads are twisty; the Wagoneer has you covered.
Spectacular Views to Inspire Every Journey
The Wagoneer was specially designed not only to look exquisite but provide practical viewing angles out of its large windows. This sophisticated Design element is aesthetically appealing and functionally wonderful. Include a wide stance, large architecture, and sleek exterior, and you've got precisely what you're looking for.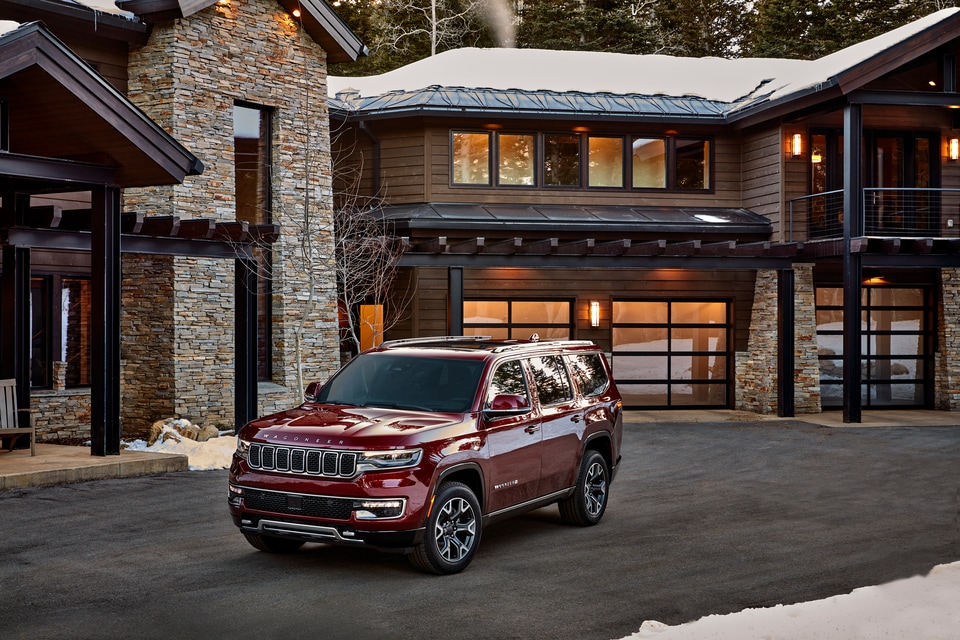 Premium Design From the Ground Up
The 2022 Wagoneer isn't only meant to look pretty but also offers a driving experience that is hard to match. Its exterior design language allows it to provide consumers with an enhanced and comfortable drive. Its high-strength steel frame is engineered with advanced materials that offer a light yet durable body-on-frame design. Pair the frame with an electronically controlled suspension, and the Wagoneer delivers greater control, stability, and handling than any other vehicle in the segment.
Pursue your Dream
At Great West Chrysler, we invite you to experience the best, not only in vehicle choice but consumer experience. Our professionally trained specialists are ready to help you get behind the wheel of your next vehicle. If you have any questions, please don't hesitate to contact us; we are standing by.
Contact Us