2022 Wagoneer Technology
The transition between technology and driving should be seamless. The 2022 Wagoneer achieves this seamlessness through a vehicle that enhances the driving experience by using a technologically advanced platform to catapult itself above the competition. At Great West Chrysler, you can find a great selection of new Jeeps. Browse our new vehicle inventory and immerse yourself in Wagoneer fantastic technology.
Uconnect 5 System with NAV and Multimedia Centre
Many technologically advanced features are present throughout, such as the All-New Next Generation Uconnect 5 system with NAV and Multimedia Centre, Enhanced Personalization, Standard and Driver Information Digital Cluster. The 2022 Wagoneer leaves all competitors in the rearview as it sets the benchmark for a highly technologically advanced SUV, making it easy to use even for novice operators.
Connectivity
The technology in the 2022 Wagoneer elevates the user experience through all venues. Imagine a world that promotes connectivity without wires and set limitations. The Wagoneer achieves this by letting occupants connect two Bluetooth phones simultaneously with the multi-phone connectivity feature. With wireless Android Auto and Apple CarPlay, passengers do not have to worry about bringing their wires with them. With the available Alexa Built-In feature, occupants can use their voice to make calls, get directions and check the latest news. Occupants also can quickly access frequently used parts with one-touch operation. Alexa allows seamless integration of technology within the vehicle's interior. The New Next-Gen Uconnect 5 multimedia system favours compatibility the way you want in your 2022 Wagoneer.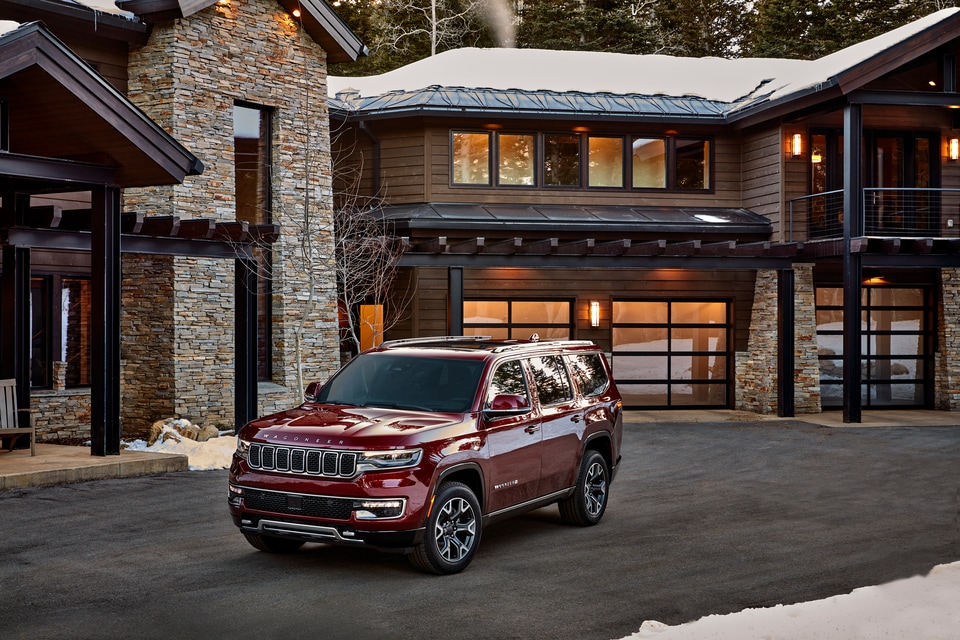 Enhanced Personalization
Compatibility your way, the All-New Next Generation Uconnect 5 System with NAV and Multimedia Centre offers more than ever before. It starts by expanding functionality outside the vehicle and delivering a more connected and personalized experience inside. The 2022 Wagoneer features an intuitive user experience by allowing occupants to configure and customize their 10.1-inch touch display with one-touch operation and touch screen functionality. Up to five user profiles can be created and saved to allow for true customization and personalization of seating preferences, mirror positions, climate control settings, music preferences, applications, and a host of their features. The system continuously evolves to offer new content, services, and features through a blazing fast Android operating system.
Driver Information Digital Cluster
Wagoneer has given consumers the ability to completely Customize their Data in 2022 Wagoneer from the outside/inside and the viewability standpoint. Drivers can choose to display as little or as much as they want on the all-new Driver Information Digital Cluster. Drivers get to decide which data they want to be displayed on their dashboards. A sizeable 10.25-inch Driver Information Digital Cluster Display allows you to see the essential information you need about the drive directly in your line of sight. Drivers can choose from nearly two dozen menus and options without having to hunt elsewhere for essential information. Things such as temperature settings, fuel economy, tire pressure monitors, and engine performance are just a few displayed indicators. The liquid crystal display provides a precise balance of colours and contrasts to enhance the user experience while monitoring their daily drive or long-awaited adventures. Class-leading technology, a host of customizable and personalized features, and a multitude of digital displays all contribute to an enhanced user experience in the all-new 2022 Wagoneer. If you have any questions, please don't hesitate to contact us.
Contact Us