img src="https://fcatadvantage-com.cdn-convertus.com/uploads/sites/305/2023/05/43cf0cc8a14768a56eed0c8f312ef79ex.png" href="https://fcatadvantage-com.cdn-convertus.com/uploads/sites/305/2023/05/43cf0cc8a14768a56eed0c8f312ef79ex.png" class="wysiwyg-image" tabindex="30000" style="" title="2022 Jeep in Edmonton, AB" alt="2022 Jeep in Edmonton, AB">
;When the Uconnect system first debuted well over a decade ago, it instantly became a favourite infotainment suite thanks to its overall ease of use, solid features and, responsive performance. As we fast forward many years down the road and introduce the all-new Uconnect 5 in the 2022 Wagoneer, the promise of faster performance a more robust and more ingenious interface is evident. The all-new Uconnect 5 is based on more potent hardware. Come and experience this revolutionary technology at Great West Chrysler. You will find a fantastic vehicle in our inventory, so choose the one that excites you.;
Uconnect 5
The new Atlantis architecture is five times faster than the previous system, packing a much more powerful processor with 6GB of RAM and up to 64GB of solid-state storage capabilities. With powerful additions to the processor and graphics, the Uconnect 5 system can triple the number of pixels on the screen, providing the user with a proper ultra-HD resolution for all the screens housed within the 2022 Wagoneer's cabin. Since the Uconnect 5 system is a powerhouse, it can support multiple displays. The central infotainment suite can power the digital instrument cluster, the passenger display, and the rear-seat entertainment units.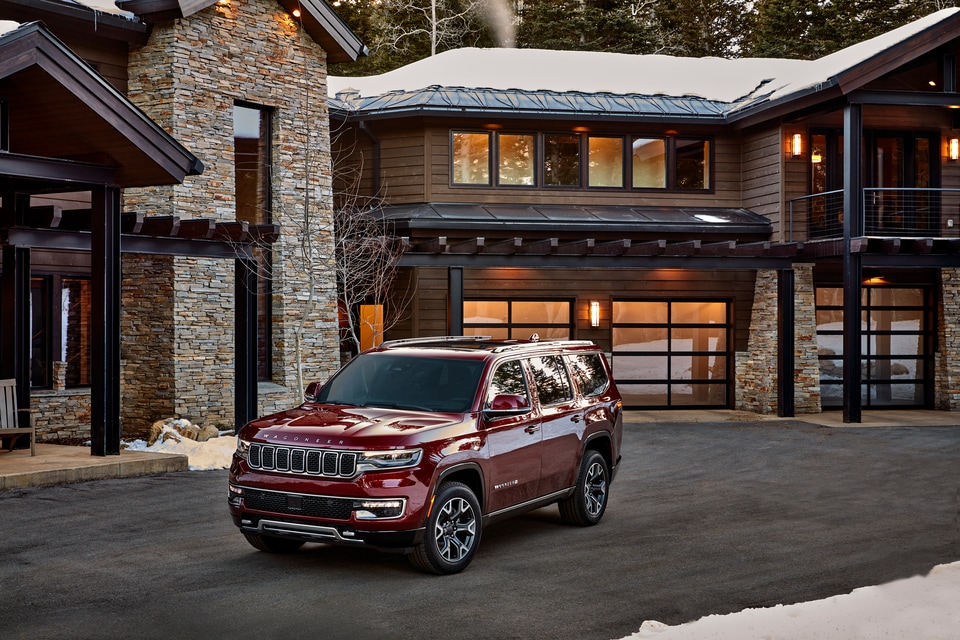 Dual Phone Connectivity:
The Wagoneer features the all-new Uconnect 5 system, which promises to take connectivity and customization to the next level with Dual-Phone Connectivity and Custom User Profiles at your fingertips. If connecting two Bluetooth devices simultaneously with ultimate functionality wasn't enough, the Uconnect 5 system also allows programming and storing up to five unique user profiles for temperature, seating, mirror placement, music, and so much more with just one touch personalization.
10.1 Inch Touchscreen Display:
Since the 2022 Wagoneer is one of the most technologically advanced vehicles on the road, It should not surprise that it offers a true 26-cm (10.1-inch) Touchscreen as standard equipment. The all-new 26cm (10.1-inch) touchscreen is reconfigurable and provides a fully customizable home screen for the most optimal user experience possible.
Advancements in Infotainment Technology:
Advancements in technology have led to unparalleled refinements in infotainment, which has paved the way to enhance the user experience to its fullest. The 2022 Wagoneer has tapped into this advanced technology by providing its occupants with a host of screens, connectivity, and of course, the ultimate experience possible.
Voice Recognition:
Only if the world was as simple as the all-new Uconnect 5 system, bringing build-in Alexa functionality, and integrating Apple CarPlay and Android Auto along with advanced voice recognition so drivers can focus on what's essential with simple hands-free voice commands.
Passenger Touchscreen:
Continuing the theme of advanced technologies, the 2022 Wagoneer offers its users an industry first a Passenger Touchscreen enabling co-pilot functionality. A 26cm (10.1-inch) touchscreen integrated with the Uconnect 5 is housed in the dash on the front passenger side. Front passengers can control entertainment (via HDMI or rear-seat entertainment controls), navigation, manage connected and unconnected devices, and view vehicle cameras along with Fire TV for Auto. ;
Uconnect 5 NAV Multimedia Centre:
The 2022 Wagoneer features the all-new, most advanced Uconnect 5 NAV Multimedia Centre ever. Android-based software with blazing fast speeds that are 5x faster than the previous version, offering complete flexibility for the ever-so-changing environment. If you need more information, please don't hesitate to contact us.
Contact Us